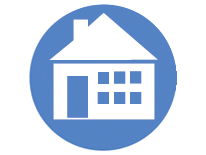 During a disaster, everyday objects in your home can cause injury or damage.
Take the following simple steps to make your home safer:
Install smoke detectors on each level of your home and change batteries every year.
Install carbon monoxide detectors near sleeping areas.
Move beds away from windows.
Clear hallways and exits for easy evacuation.
Keep a fire extinguisher on each level and know how and when to use them.
Store flammable or highly reactive chemicals (such as bleach, ammonia, paint thinner) securely and separate from each other.
Know how and when to switch off your utilities.
Ensure that all window safety bars have emergency releases.