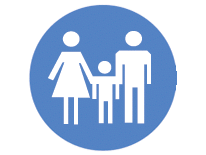 Your family may not be together when disaster strikes, so it is important to plan in advance.
Below are simple steps to take to ensure you and your family is prepared:
 
Teach your children how to make long-distance telephone calls and how to dial 911 for emergency assistance.
Program emergency numbers into all phones.
Pick two places where your family will reunite after an emergency: a place near your home, and a place outside the District in case you cannot return home after an emergency.
Make sure everyone knows the addresses and phone numbers of both meeting places.
Know and practice all possible exit routes from your neighborhood.
Put important family records (birth certificates, healthcare records, passports) in a safe place, such as a fireproof and waterproof safe or a bank safety deposit box.
Practice your plan with all household members.
Include your children in your planning, practice your plans with them, and quiz them to make sure they understand what to do. Always stress that this is a "just in case" plan.
Get a copy of your child's school or daycare emergency plans.
Make plans for where you can meet your child after an evacuation.
Make sure that the school has up-to-date contact information for you and other family members.
Authorize a friend or family member to pick up your child in an emergency if you are unable to do so.
Identify an easily accessible location in your home to store your Emergency Kit and make sure everyone in the home is aware of the location. If you have young children, make sure your Emergency Kit includes toys, books, and other personal items for your child.
 
For more information on emergency planning visit, the American Academy of Pediatrics' web site.