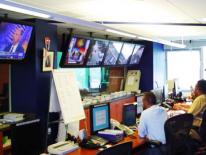 Functions
The Homeland Security and Emergency Management Services Division (HSEMSD) serves as the single point of contact for coordinating all of the HSEMA's fiscal issues. The Division helps other HSEMA divisions to meet their goals, by providing professional, efficient and timely service in matters including procurement, payroll, payables and grant management. HSEMSD operates as the liaison between the HSEMA and the Chief Financial Officer's office at the Metropolitan Police Department.
HSEMSD provides the following services:
Procurement - Purchase needed services, supplies, and equipment in accordance
 with state regulations. It also processes paperwork sent to the CFO's
 office to enable employees to travel and be reimbursed for travel expenses.

Payroll - Process payroll to ensure that the staff is paid in a timely manner. The HSEMSD also researches any problems or issues that staff has related to payroll.

Payables - Process paperwork sent to the CFO's office, to ensure that vendors receive accurate and timely payments.

Accounting - Make resource allocation decisions by forecasting and monitoring payroll and payables transactions.

Budgeting - Provide information and oversight on the agency's budget, costs, options, limitations and priorities.

Grants Management - Ensure the agency meets reporting requirements for federal grants.

Human Resources - Advise employees of benefits and process approved personnel actions

Facility Management - Address facility concerns and oversee the recycling/green tram projects.