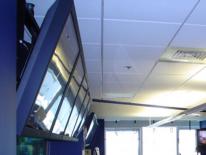 The Information Technology and Communications Division (ITComms)  is the technology support service of HSEMA. These technologies include computer systems, radio and telecommunications, closed circuit television, other audiovisual systems and mobile command vehicles.
Software/Systems Administration
ITComms manages and administers specialized applications for emergency communications,other emergency management support as well as office automation for the Agency.
AlertDC: A system which provides real-time notification to citizens via text messaging and e-mail.
WebEOC: A web-based communications systems which links agencies throughout the NCR during emergencies and special events.
Application development: Design and development of in-house applications, databases and customization of vendor software.
Network Administration
ITComms manages and administers the Agency's Local Area Network:
Maintenance of connectivity to the DC-NET Wide Area Network
Responsible for the design, installation and maintenance of the LAN and connectivity of computer, audiovisual and communications systems as well as printers, plotters and faxes.
Hardware
ITComms is responsible for the installation and maintenance of computer workstations, servers and communications equipment.
Emergency Operations Center (EOC): The EOC has workstations for use by Emergency Liaison Officers, District and Regional officials and support staff during activations. The Video Wall displays live DDOT camera images, closed circuit TV, HSEMA workstation desktops views and video conferencing feeds to the entire Center. HSEMA has the capability to view all DDOT traffic cameras and is the only agency outside DDOT that has this ability.
Joint All-Hazards Operations Center (JAHOC): The JAHOC is staffed 24 hours 7 days a week. Video monitors are linked to the same feeds as in the EOC.  Workstations are linked to monitoring of DC properties and public schools as well as other systems. There are radios, control stations and terminals, specialized telephones and printers.
Executive Conference Room (ECC): The ECC is equipped with telephones, projection equipment, video, computer and network linkages to duplicate the communications capabilities of the EOC and serves as the location for CMT Consequence Management Team.
Command Vehicle: The Agency owns a command vehicle capable of bringing emergency communications to the field.  The division maintains it in a state of readiness and staffs the vehicle during activations.
Office Automation and Support: Workstations, printers and telephones are maintained for a staff of approximately 70 people.
Radio - Telecommunications
This branch is responsible for planning, developing, coordinating and maintaining the Agency's emergency communications capabilities, including video, microwave, satellite, telephone, teletypewriter, radio, wire and associated systems.
Coordinates with regional entities to ensure compatibility between the various communications systems in the Washington Metropolitan area.
Conducts periodic tests of communications networks and equipment to ensure operational readiness.
Manages telecommunications for the EOC, the Mobile Command Vehicle and other sites that may be used by HSEMA.
Manages the design, installation and servicing of a variety of radio and video systems including HF, UHF, VHF-low, VHF-high, Satellite, radio and video fiber systems.
Manages the Emergency Alert System (EAS).
Coordinates the US Army Military Auxiliary Radio System (MARS), which includes the VHF radio repeater.
Manages and monitors the Washington Area Segment (WAWAS) of the FEMA National Warning System (NAWAS).