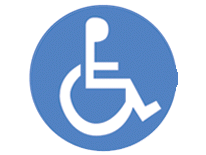 Each person's needs and abilities are unique, but every individual can take important steps to prepare for all hazards and put plans in place. By evaluating your own personal needs and making an emergency plan, you can be better prepared for any situation.
Below are steps you can take to prepare for an emergency:
Create a personal support network of family and friends who can help you in an emergency.
Make sure that someone in your network has a key to your home and knows where you keep emergency supplies.
Keep at least a week's worth of medications on hand.
Keep a copy of all prescriptions as well as dosage or treatment information.
If you undergo any regular medical treatments, or if you require home health care services, talk to your service provider about its emergency plans.
Talk to your pharmacist or doctor about what else you need to prepare.
If you are dependent on electricity for a wheelchair or any life-sustaining device, consult your power provider.
Make copies of important documents, including your health insurance and Medicare and Medicaid cards.
Keep this list in your Emergency Go Kit, along with the names and phone numbers of the people in your support network.
Keep emergency cash or travelers checks on hand.
 
For your Emergency Go Kit, consider items such as eyeglasses, hearing aids and hearing aid batteries, wheelchair batteries, oxygen, dentures, and emergency foods that meet any special dietary needs