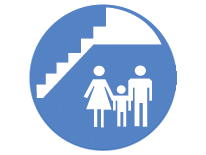 It is more dangerous to be outside in some types of emergencies. In these emergencies, the best, safest response is to "shelter in place." This means staying inside a safe building—your house, workplace, school, or other building—or entering a nearby building and seeking cover.
If you are asked to shelter in place:
Shelter in a room with the fewest doors and/or windows possible. Ideally choose a room that has just one door and at least 10 square feet per person.
Seal doors, windows and fireplaces.
If the emergency is airborne (such as a disease, chemical release, or radiation) turn off ventilation and hot air heating systems (radiator heat may remain on).
Keep at least one phone line open for emergency calls.
Stay tuned to your radio or television, or scan official web sites for information and updates.
Use your Emergency Go Kit.