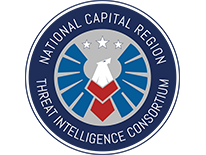 The National Capital Region Threat Intelligence Consortium (NTIC) employs an all-crimes, all-hazards approach and is based in the District of Columbia's Homeland Security and Emergency Management Agency. The NTIC works in partnership with fusion centers in Maryland and Virginia, as well as the federal government, to conduct regional analysis and share information on terrorism, crime, and natural hazards.
The NTIC is one component of the national network of fusion centers, which the U.S. Department of Homeland Security has sanctioned as a critical strategic initiative for sharing information across a range of natural and manmade threats. The consortium is comprised of four centers responsible for producing a comprehensive analysis to enhance decision-making and situational awareness for executive leadership, first responders, critical infrastructure partners, and the public. Each center produces high-impact, quality intelligence in its area of expertise.
Analysis Center is a central hub for all tactical and strategic analysis for first responders, the broader intelligence community, and critical infrastructure partners. The center provides daily intelligence to law enforcement and first-responder communities while looking at long-term trend analysis—the building block for regional estimates and strategic warning.
Cyber Center is the one-stop shop for cybersecurity information sharing, threat analysis, and incident reporting. The center focuses on increasing regional resiliency to cyber attacks by providing situational awareness and the widespread adoption of best practices.
Public Safety Center is the face of the NTIC to our largest customer and partner—the public. It recognizes the value of public engagement and is dedicated to writing intelligence products at the unclassified level to inform and prepare NCR residents for all hazards. The center also delivers training and manages our social media presence.
Watch and Warn Center is a constant and reliable source for regional information. The center provides around-the-clock alert notifications and develops a common operating picture supporting coordination and collaboration on emerging incidents across the National Capital Region (NCR).
District's fusion center was designated on April 1, 2012, by Mayor's Order 2012-37, and is recognized by the U.S. Department of Homeland Security.
Privacy Policy
The NTIC is governed by a privacy, civil rights and civil liberties protection policy in order to promote conduct that complies with applicable federal, state and local law. The NTIC does not seek or retain any information about individuals or organizations solely on the basis of their religious, political or social views or activities; their participation in a particular noncriminal organization or lawful event; or their race, ethnicities, citizenships, places of origin, ages, disabilities, genders or sexual orientations. No information is gathered or collected by the NTIC in violation of federal or state laws or regulations. The NTIC Privacy Policy can be found here.
The NTIC's Privacy Officer is responsible for receiving and responding to inquiries and complaints about privacy, civil rights, and civil liberties protections in the information system(s) maintained or accessed by the Center. The Privacy Officer can be contacted at the following address [email protected], Attention: Privacy Officer.
Additional Resources
Metropolitan Police Department's iWatch
U.S. Department of Homeland Security: See Something, Say Something