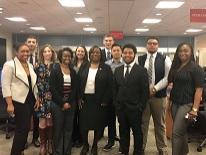 About HSEMA's Program
Thank you for your expressed interest in HSEMA's Internship Program. There is currently NO open application cycle. The Fall Internship Program application cycle will open in mid-July. Please continue to check back for further updates.
HSEMA's internship program provides real-world knowledge and experience in emergency management, homeland security efforts, and intelligence analysis. Our internship program seeks qualified graduate and undergraduate students who are majoring in a wide-variety of fields. A highly qualified applicant will possess the following: self-motivation, attention to detail, critical thinking skills, excellent oral and written communication skills, and the ability to work in a fast-paced environment.
Internship Opportunities
The HSEMA Internship Program is not currently accepting applications. HSEMA is proud to offer internship opportunities with six (6) different divisions. Within select divisions, there is more than one opportunity. You will find additional details about the bureaus by clicking on the division or office of interest to you. Please send any questions regarding the internship program to [email protected].
Division of Administration - flyer coming soon!
Internship Eligibility and Requirements
HSEMA is looking for candidates who are:
Undergraduates (juniors or seniors will be given preference) or graduate students
In good academic standing with a minimum GPA of 2.5 at a U.S. college or university
Enrolled in courses at the time of the internship. Students applying to the summer session must be enrolled in classes for the summer or fall 2020 semesters.
*To apply, you must be a US citizen. All applications are subject to a background check.
HOW TO APPLY
Submit the following documents via email to [email protected] and include the division or office you are applying to in the subject line. Applications that do not include each of the following items WILL be rejected.
Cover letter indicating the division/office you are applying to
Resume
Writing sample (any sample of your choosing, max 5 pages)
One (1) letter of recommendation from an academic or professional reference
Copy of most recent transcript
Proof of enrollment in an undergraduate or graduate program - this must be supported by an official transcript or letter from school administration that includes student's expected graduation date OR a copy of student's class schedule for summer or fall 2020 semester