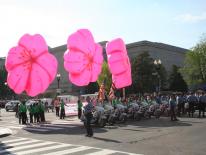 As the nation's capital, Washington, DC hosts numerous special events that reflect the city's diverse and rich heritage while contributing to the spirit and vitality of the city. The Government of the District of Columbia provides essential municipal services in support of special events to ensure events occurring on public space in the District of Columbia are conducted in a manner that protects public health and safety. Coordinating the city's public safety planning efforts for events requiring interagency coordination is the responsibility of the Mayor's Special Events Task Group (MSETG).
Link to DC Health Coronavirus Information: coronavirus.dc.gov/
The MSETG meets to review presentations of proposed events the second and fourth Monday of each month, except on government holidays. The organizers of proposed special events are required to present event proposals to the MSETG and receive the concurrence of the group prior to the issuance of permits or licenses by the permit-granting agencies.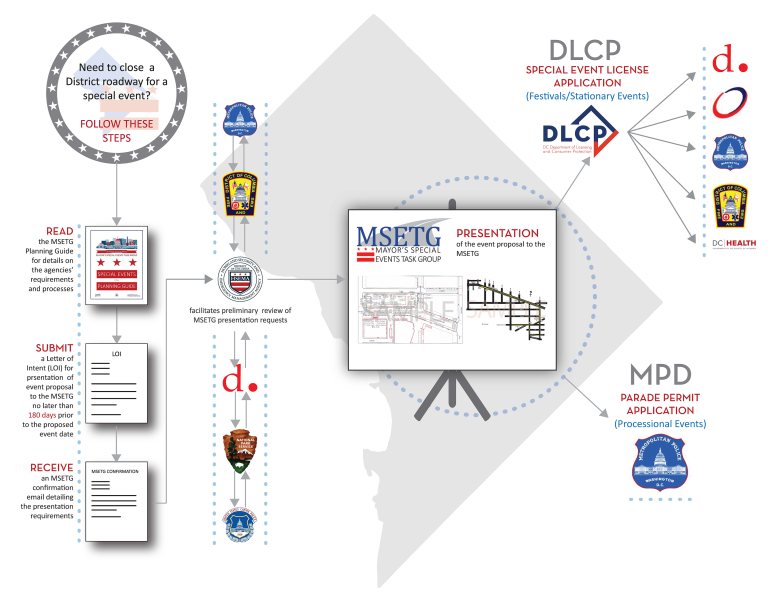 Presentation requests in the form of a Letter of Intent (LOI) must be received no less than ONE HUNDRED EIGHTY (180) DAYS prior to the date of the event and are accepted up to one year prior to the proposed date of the event. The LOI should be addressed to D.C. Mayor's Special Events Task Group; 2720 Martin Luther King, Jr. Avenue SE, 2nd Floor; Washington DC 20032. The LOI may be submitted by e-mail to [email protected].
For details on what your written request must contain, see Your Guide to Planning a Special Event.
Special Event Relief Fund
Mayor Bowser and the Office of the Deputy Mayor for Planning and Economic Development (DMPED) launched the Special Events Relief Fund which allows organizers of festivals and outdoor special events to apply for financial assistance to cover up to 100% of services incurred by the event from the following agencies (paid through direct payment from DMPED to the agency):
Alcoholic Beverage Regulation Administration (ABRA)
Department of Consumer and Regulatory Affairs (DCRA)
Department of Health (DOH)
Department of Parks & Recreation (DPR)
Department of Public Works (DPW)
Department of Transportation (DDOT)
Fire and EMS Department (FEMS)
Metropolitan Police Department (MPD)
More information can be found on DMPEDs website here: DMPED Special Event Relief Fund