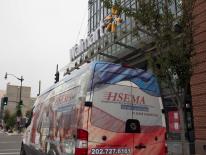 The resiliency of a community is directly linked to how quickly goods and services begin to flow to the impacted area following a disaster. To formalize its relationship with the private sector, Homeland Security and Emergency Management Agency (HSEMA) has established the Business Emergency Management Operations Center (BEMOC) to help facilitate the interaction between the public and private sectors before, during and after an emergency.
BEMOC membership is free and open to organizations that are located in, or do business in, the District of Columbia. The BEMOC provides its members with situational awareness, as well as information and resources on emergency preparedness, emergency response, recovery and mitigation.
During emergencies, the BEMOC activates to provide up-to-date situational awareness to its members. The BEMOC serves as the primary liaison between the public and private sector during such events.
The BEMOC is a valuable resource to the District of Columbia's private sector.
You can sign up for the BEMOC here. For more information, contact [email protected].