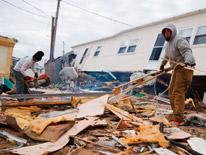 According to the Federal Emergency Management Agency (FEMA) only 40-60 percent of small businesses reopen when affected by disaster. The Homeland Security and Emergency Management Agency (HSEMA) provides technical assistance to private-sector organizations through Business Continuity Planning. Such planning allows businesses to limit operational interruptions, protect employees and the community and recover from financial losses in the event of an emergency. Additionally, businesses provide many of the vital services and resources communities rely on before, during and after emergencies. It is in the interest of the entire community to ensure businesses are prepared before disasters strike.
Businesses must be able to prepare for, mitigate, respond to and recover from an emergency. HSEMA reaches out to the private-sector and engages with businesses to provide them with the tools they can use to ensure their preparedness. If requested, HSEMA will also review and provide feedback on existing emergency plans for businesses located in the District of Columbia. Businesses should allot a minimum of 45 days for cursory review and comment.
Together, the private and public sectors work towards keeping the District prepared and safe against all hazards.
For more information, contact [email protected].