The District Preparedness System is governed by the DC Emergency Preparedness Council (EPC), the DC Emergency Response System (ERS) Committee and working groups and subcommittees aligned to mission and functional areas. These are the groups that have been formally established to formulate the policy and direct the affairs of the DPS. These groups work together to leverage best practices, lessons learned, existing knowledge and expertise and innovative resources to meet the known and emerging threats and hazards in order to build on our standing as a national leader in emergency management.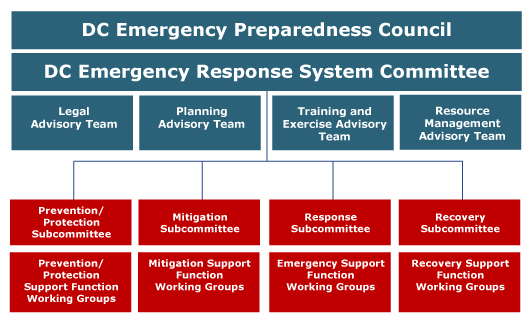 Emergency Preparedness Council
Pursuant to the Mayor's Order 2012-82, the DC Emergency Preparedness Council (EPC) consists of the chief executives of the District agencies and departments that have a role in planning for, responding to, or recovering from a major emergency or disaster affecting the District of Columbia.
The EPC serves as the primary governance body for the development and implementation of the District's Homeland Security and Emergency Management Strategy and provides strategic guidance and oversight to the DC Emergency Response System Committee (ERS). The EPC integrates preparedness activities across disciplines, agencies and levels of government; develops a cohesive planning framework that builds upon homeland security initiatives; and utilizes preparedness and funding sources in a collaborative manner to encourage whole community preparedness and enhance overall capabilities.
DC Emergency Response System Committee
The ERS Committee supports various agencies across the District in developing, refining and expanding emergency capabilities and capacity. ERS meets monthly to discuss strategies, set priorities and provide input and guidance to relevant District departments and agencies on issues of emergency preparedness. ERS channels initiatives to integrated working groups for planning, logistics and resource management, training and exercises and law and policy to expand and operationalize committee recommendations. ERS coordinates and partners with the Northern Virginia Emergency Response System and ERS Maryland. All three systems work together to promote regional preparedness in alignment with the goals and priorities of the District of Columbia and the National Capital Region.
ERS Subcommittees
ERS established four Mission Area Subcommittees to support the District Preparedness System: Prevention/Protection, Mitigation, Response and Recovery. These subcommittees focus on enhancing the District's capabilities, identifying priorities to support ERS and building sustainable programs in each of the mission areas.
ERS channels initiatives through ERS subcommittees for planning, resource management, training and exercises and expansion and implementation of committee recommendations. Subcommittees focus on priority concepts of each mission area, while engaging the ERS overall vision of building a truly interdisciplinary, interagency and interoperable city-wide and regional preparedness system.